The CLOCKMAKER'S GALLERY was established in 1976. The primary focus of our store has been to offer the most comprehensive selection possible. We offer simple and complex alarm clocks for the bedside. Desk clocks in all range of styles will enhance your home or office.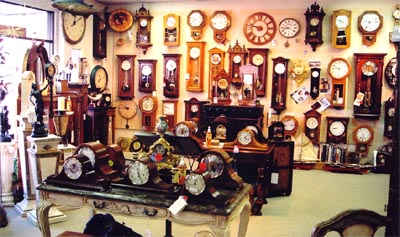 Our mantel clock selection represents the fine clockmakers of yesteryear to the masters of today. All major brands can be found on display backed by our in-store and factory guarantees... We fully warrant and service every clock we sell. We are proud of our careful follow-up after sales service.

The hundreds of wall clocks in stock also range from the early 19th century to the fine craftsmanship of today's quality clockmakers from all corners of the globe.

Last, but by no means least are the stately floor or grandfather clocks. Again, our selection will begin from the early 19th century to the masterful works of today's highly skilled clockmakers of today. All major makers are offered such as Howard Miller, Ridgeway, Seth Thomas, Chelsea, Sligh, Kieninger, Hermle, Bey-Berk, Atmos, Linden, Bulova, Seiko and BLACKFOREST clocks.